Technology: Thermal spraying technology

Thermal spraying technologies
Atmospheric Plasma Spraying (APS)
Plasma is an electrically conductive gas containing electrically charged particles, ions and electrons.
In the plasma spraying process, metals, alloys, high melting-point materials, such as ceramics and cermets in powder or wire form, are melted and sprayed onto the substrates using a plasma jet heated to over 10,000°C. The two methods of plasma spraying are atmospheric plasma spraying (APS) and vacuum plasma spraying (VPS).
APS has a wide range of material choices and high adhesiveness, and is being used in a growing number of fields for its advanced features and comprehensive quality control.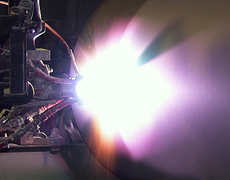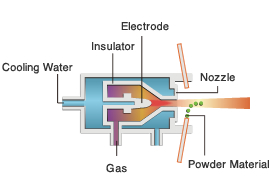 Vacuum Plasma Spraying (VPS)
Vacuum plasma spraying is carried out inside a vacuum chamber that is evacuated of oxygen and filled with an inert gas (argon) that is maintained at low pressure. This process has the following characteristics.
Coatings preserve the specifically designed characteristics of the coating materials.
Activated metals, such as titanium, can be used for the coating.
As the spraying speed of molten particles is faster than in oxygen, coatings with higher bonding strength and density can be used.
VPS is essential to producing high-functional coatings for various advanced technologies.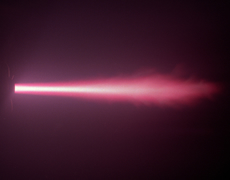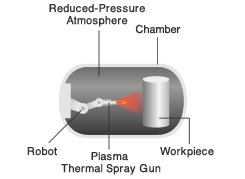 Electric arc spraying process (Arc process)
In the electric arc spraying process, two wires of the coating material are melted using a short circuit arc of direct current electricity at the nozzle of spraying gun. The material droplets are then atomized and sprayed onto the substrate with compressed air. Electric arc spraying and gas-flame spraying method are both called wire processes. All metals and alloys in wire form are possible for arc spraying material.
Advantages of arc spraying over flame spraying
Doubled spraying make it suitable for larger substrates
Higher bonding strength and adhesion
Higher compression makes it suitable for heavy load conditions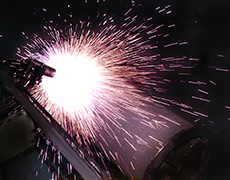 High velocity oxy-fuel (HVOF) spraying process
In the HVOF spraying process, the combustion chamber pressure in the spraying gun is increased to generate a high-speed flame comparable to a detonative combustion flame. The powder materials are fed in and melted or half-melted in the flame jet stream, then accelerated and sprayed at supersonic speed. This process allows the formation of coating with extremely high density and bonding strength. Compared with detonation spraying, HVOF coating has more homogeneous characteristics due to its continuous formation process, and it works more effectively in forming wear-resistant coatings with carbide cermets.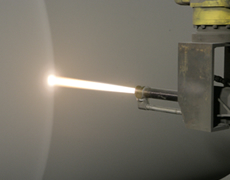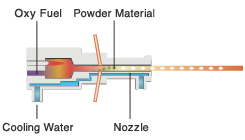 Powder flame spraying process
The powder flame spraying process uses self-flux alloys in powder form for spraying materials, and oxygen or acetylene as a heat source. Self-flux alloys mean alloys with a low melting point of around 1,000℃, containing nickel and/or cobalt as the base metal, and boron and silicon as fluxing materials. After the sprayed coating reaches the desired thickness, a fusing treatment is applied to cover open pores and form an alloy layer with the substrate, which provides high adhesiveness comparable to welding. In the fusing and solidifying process, the coating deposits a solid layer of boride and carbide, which adds exceptional wear resistance to the coating.
The coating also provides outstanding resistance to corrosion from most chemical solutions, erosion, and cavitation erosion as well as hot hardness characteristics.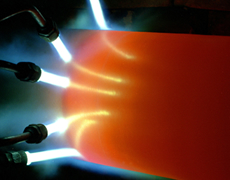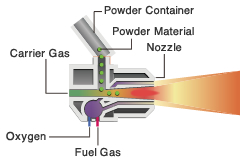 Rod flame spraying process
The rod flame spraying process produces coatings with high density and adhesion.
In the process, ceramic rod material is completely melted by combustion gas, and compressed air is used to spray the melted particles onto the substrate.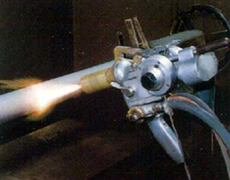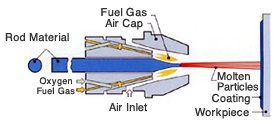 Wire flame spraying process
The wire flame spraying process uses metals and alloys in wire form as spraying materials, and a combustion flame or electric arc as its heat source. The coatings are formed by spraying the molten materials onto the surface of the workpiece.
All metals and alloys in wire form are usable, such as copper, bronze, stainless steel, high carbon steel, molybdenum, and low melting point metals like aluminum and zinc.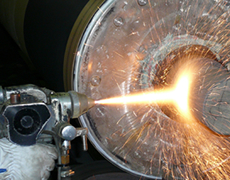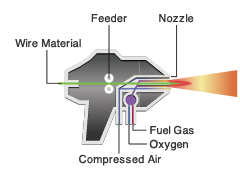 Suspension Plasma Spraying (SPS)
Suspension plasma spraying is a new plasma spraying method that delivers the coating material in a liquid suspension state, making it possible to spray fine particle powder material. Adjusting the thermal spraying conditions of the ultra-fine powder makes it possible to produce coatings with attributes for specific conditions, such as an ultra-dense, low-porous coating for enhance wear resistance or an ultra-porous coating with low thermal conductivity and catalytic support.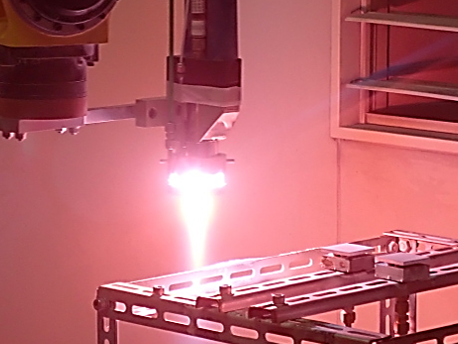 Super Diffusion Coating (SDC)
Super diffusion coating delivers an even thickness of hard particles creating a superalloy coating with high hardness and toughness. The coating is long-lasting and prevents peeling and cracking even high temperature oxidation, thermal shock, high load, and other harsh environments.
The SDC alloy layer is more than three times thicker than the powder flame spraying process. This produces stronger adhesion to the base material and greater impact and peeling resistance.
SDC and powder flame spraying process (self-fluxing alloys) coating comparison
| Type of coating | SDC-1 | SDC-2 | Standard coating |
| --- | --- | --- | --- |
| Material | Ni-WC | Ni-Cr-B-Si-WC | Autolyzed alloy containing WC |
| Hardness (HV) | 900–1000 | 900–1100 | 700–750 |
| Alloy layer (μm) | 30–40 | 25–35 | 5–10 |
| Adhesive strength (MPa) | 350+ | 300+ | 200+ |
Measurement figures are averages, and are not guaranteed.
Cross sections of SDC coating layers